Game 8: Match-Up Mix-Up
A friendly mirror game and pitching duel gets sour as GD-Crew enlists some unwelcomed players
July 11, 2005
By Andrew Wolan / MLSB.com
Score Box
| | | | | | | | | | | | |
| --- | --- | --- | --- | --- | --- | --- | --- | --- | --- | --- | --- |
| Avengers | 7 | 3 | 7 | 3 | 5 | X | X | | 25 | 29 | 0 |
| Visitors | 0 | 2 | 1 | 0 | 10 | X | X | | 13 | X | 0 |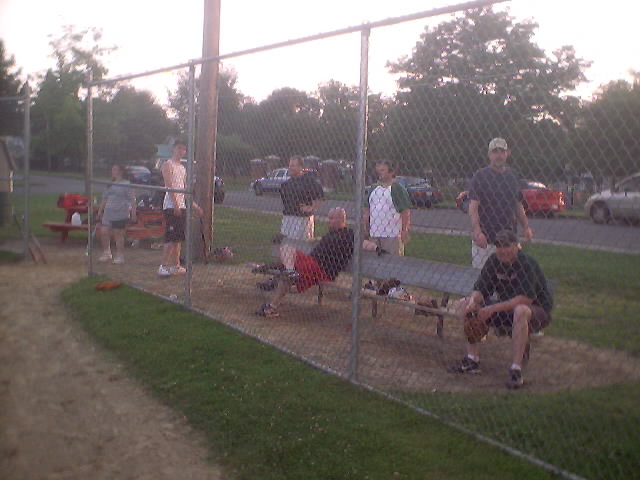 The team watches the action from the dugout in the 4th. (Wolan)
Summary
Game 8, originally named "The Mirror Match" featured a fun match-up between two winless teams that share a common pool of players. To make things more interesting, the game was to feature a pitching duel between Rick Palma and A-WOL, who are both winless this season.
However, some last minute enlistments by the GD-Crew manager unknowing turned a fun game in a tense situation. The GD-Crew skipper enlisted a few former A's players and trouble makers with a bitter past reputation with players on both the A's and GD-Crew. Their enlistment was also questionable as GD-Crew clearly had enough male and female players for the game without them.
Regardless, the A's took these matters in strides by intensifying their resolve to win their first game of the season. The A's offense was on fire, scoring 25 runs off of 30 hits. With some good old fashioned hustle and bustle, the A's batters and runners were able to maximize the number of extra bases gained and capitalized heavily on fielding mistakes made by GD-Crew. In fact, no base runners were called out attempting to collect an extra base: GD-Crew was only able to force out a few base runners.
The A's defense looked sharp and limited GD-Crew to just 3 runs after 4 innings. However, the defensive unit eventually became fatigued and GD-Crew capitalized on it by scoring 11 runs in the 5th. However, it was not enough to overcome the A's huge lead as the A's picked-up their first regular season win since June 30, 2004.
Highlights
Scott: played a game despite recent bout with cancer. Was 2 for 4 with an RBI.
Jason: 4 for 4 (two 2B, 3B and a 3 run inside the park (ITP) HR in the 2nd) with 6 RBIs and 3 runs.
Derek: 5 for 5 (2B, 3B) with 2 RBIs and 3 runs.
Tony: 4 for 4 with an RBI and 3 runs.
Dale: 3 for 5 (2B, two 3B) with 5 RBIs and 2 runs scored.
Kim: 3 for 4 with 2 RBIs and 2 runs
A-WOL: 3-run ITP HR in the 1st. First career home run.
Annie: 2K's in 5 innings. First career win with A's.
Web gem: Jason caught a line-drive to SS in the 3th.
Web gem: Matt snagged a line-drive to 3B in the 4th.
A's: held GD-Crew to just 3 runs after the first 4 innings. Best stretch of the season.
A's: two 7-run rallies. Ties the mark for largest rally of the season set at Game 7.
A's: did not give-up a HR in the game. First time this season.
Game was called after the 5th inning because the game had run over the allotted 1.5 hrs.
D.W.: 0 for 2 with a walk, an error, and verbal diarrhea.
D.W. and J.R. did not shake hands with the A's after the game.
Game Photos & Audio Clips | Fielding and Batting Line-Ups | A's Player Stats from the Game
Andy Wolan is a reporter for MLSB.com. This story was not subject to the approval of Major League Softball or its clubs.